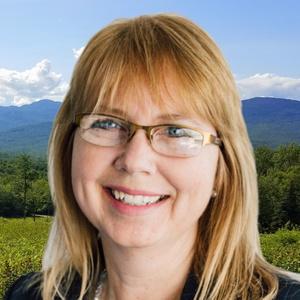 Ask anyone in town and they'll tell you; Wendy Wright is a hard-working Associate Broker with Sandy River Realty, and she's always smiling! When she's not helping people with buying and selling, she's heading up the rental department as manager of Sandy River Property Management. When it comes to buying, selling, or renting, she's your goto girl!! She has been with Sandy River Realty for several years now, and has demonstrated her flair for dotting her I's, and crossing her T's. She's a [...]
Ask anyone in town and they'll tell you; Wendy Wright is a hard-working Associate Broker with Sandy River Realty, and she's always smiling! When she's not helping people with buying and selling, she's heading up the rental department as manager of Sandy River Property Management. When it comes to buying, selling, or renting, she's your goto girl!! She has been with Sandy River Realty for several years now, and has demonstrated her flair for dotting her I's, and crossing her T's. She's a genuine go-getter and loves to help people relocate from out of state.
When you're ready to get started on buying, selling, or renting your dream home....Call Wendy Wright today, she'll get it done the "Wright" way :)
Office Location
602 Wilton Road
Farmington, ME 04938
Specifications
Languages:
Specialties:
Service Area:
Wendy's Testimonials
Wendy has a wonderful can-do attitude. She listened to my wants and needs, and did her homework to find listings that fit the bill. She knows the ins and outs of the real estate process and is a great resource and guide for navigating the purchasing and closing processes.
M.M.
Wendy, she was excellent in selling our cottage. She and her husband made a video that was out of this world. I knew when I saw the video we had picked the right agent. I'm sorry to say we were hard to deal with and she had great patience. I would recommend her to anyone.
Wayne Goodell
Wendy you went above and beyond our expectations in every way we could've imagined! You sold our camp in a tough economy and in a tiny town with very little buyer traffic. We were amazed at the amount of effort you put into it, from flyers, to our open house (timed perfectly with the one occasion a year there is a bit of traffic!) Once the camp was sold you went right to work helping us to locate our dream house, which we will be forever grateful to you for. You are the BEST OF THE BEST!! [...]
E.M.
Wendy has been reliable, enthusiastic, creative in helping to solve problems, and she has a list of skilled people who can attend to any situation that arises. She has been an excellent agent with whom to work.
Sandra MacMahon
In moving from out of state, Wendy was most helpful in finding us a place to rent, and then diligently worked with us to find our new home, all in the short span of two months. We love our new home, and highly recommend Wendy.
C.G.
Wendy and Will Wright have been outstanding to work with for many years. Both with property management and with house sales. Farmington is lucky to have them!!!!
A
Our experience with Wendy was wonderful. She was very good about keeping us up to date with everything, and showing us everything there was to know about homes. Wendy was always there if there was a question, and she would answer with honest answers. I have never had anyone be so helpful to me and my family. Wendy went above and beyond for us with everything.
D.M.
We listed with Wendy Wright, sold the house in 2 days and would definitely work with her again. She is thorough and professional and she kept in contact through every step.
Billie Howard-Goldsmith
Wendy is the consummate expert in her field. She went above and beyond to help me in my search and to represent my best interests in a somewhat complex purchase. If you want a professional, positive, intelligent realtor call Wendy.
Craig Cahall
Wendy showed me some Camp properties. I appreciated Wendy`s continual completeness, i.e.:showing up for our appointments with complete documentation about the property she was showing me. I particularly enjoyed Wendy`s non-aggressive, friendly, sincere personality. Wendy was always easy to communicate with, always punctual, and would consistently follow up with a friendly, polite, non aggressive e-mail.
W.H.
Contact
Hi there! How can we help you?
Contact us using the form below or give us a call.
Hi there! How can we help you?
Contact us using the form below or give us a call.