Coldwell Banker
Sandy River Realty's HomeBuyer Guide

Finding and Financing A Home, Made Simple
---
Introduction
Coldwell Banker Real Estate LLC was founded in 1906 with the intent to provide exceptional real estate service from honest, knowledgeable people who are dedicated to customer satisfaction. Today, we are proud to acknowledge we have maintained our mission and continue to deliver outstanding service to all our customers throughout the entire world. The Coldwell Banker® HomeBuyer Guide is one of the many resources we provide buyers to help them navigate through the journey of finding, financing and buying a new home. You'll find interesting facts, worksheets and charts that will prepare you for this exciting adventure. You can sit back and relax knowing you are working with the best Sales Associates in the business.
Buying Your New Home

Congratulations!
You've decided to start fresh and purchase a new home. This is a very exciting time for you and we look forward to guiding you smoothly through this process, helping you to efficiently find the home of your dreams. As you will see, there are several steps you need to take before you move into your new home. The Coldwell Banker® HomeBuyer Guide is designed to inform you of your rights as a homebuyer and to introduce you to the world of real estate. When using a Coldwell Banker Sales Associate, you will feel confident your search for a new home will be very successful.
Let's get started!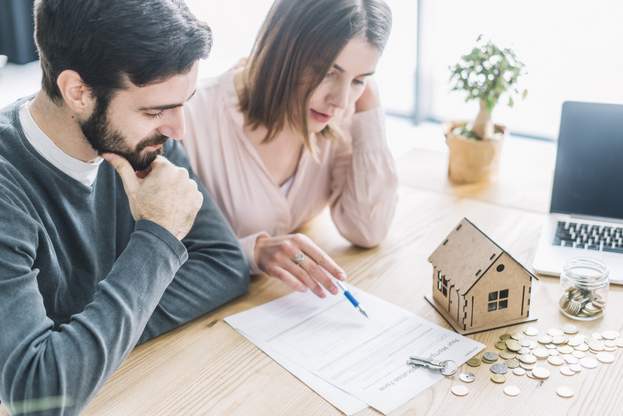 The Financing Process
Here's an easy way to understand the financial steps you'll need to take to guide you towards your new home. With a Coldwell Banker® Sales Associate, nothing is too complicated.
Calculate your budget
Apply for a mortgage/paperwork/loan application
Obtain Pre Approval from Lender to determine amount of mortgage you are eligible for
Determine budget for Home Purchase Price based on mortgage and down payment
Search begins – Sales Associate shows you multiple listings
You find the house you want
You make an offer
Upon acceptance of your offer, lender begins processing application
Lender provides booklet of estimated closing and related costs
Lending institution requests an appraisal of home, a credit report and verification of employment and assets
Estimate of your loan costs in form of initial Truth in Lending Disclosure Statement
Lender evaluates the application and approves the loan
Lender disburses funds to closing agent
Sign closing documents and loan is funded
Appropriate documents recorded at local recorder's office
The home is sold and it is yours
Now that you have a clear understanding of the entire process, let's look closely at each step.
How Much Can You Afford?
Before you can begin to search for a new home, you need to determine your budget and estimate how much you can afford. Consider all costs involved, including taxes, homeowners insurance, private mortgage insurance (PMI), and utilities. One of the most important factors in figuring out your financial budget is getting pre-approved for a mortgage.
What is a Mortgage?
The first step towards financing a new home is getting pre-approved for a mortgage. A mortgage is an advance of money from your lender that will cover the finances of your new property. Over an extended period of time, you (the mortgagor) must pay the bank back each month a percentage of the money they lent you plus interest, until the total sum is paid in full. This is how most homes are financed.
Documents Needed
When you apply for a mortgage, you will need to furnish information regarding your income, expenses and obligations. Check your credit report to make sure there are no errors. To save time, have the following items available for each borrower:
Two most recent pay stubs
W-2s for the last two years
Federal tax returns for the last two years
Last two months bank statements
Long-term debt information (credit cards, child support, auto loans, installment debt, etc.)
Getting Approved
Of course, a lender will only lend you money if they're sure your credit is strong and they're confident you have the ability to pay them back. A bank checks your credit by studying your financial history, income, federal tax returns, pay stubs, and long-term debt information (such as credit cards, auto loans, child support, etc.) to determine if you are a good candidate for a loan. If your credit report is good and you have an appropriate down payment, then you have an excellent chance of obtaining a mortgage. If not, then you must take the appropriate steps to improve your credit rating.
Repairing Credit Problems, And Establishing Good Credit
At one time or another, most people have put blemishes on their credit reports. If your credit report is tarnished, here are a few suggestions you can do to repair the damage. Examine the credit report thoroughly and make sure it's accurate. If there are mistakes on the report, contact the credit report agency and ask them to remove the mistakes immediately. Here are some other helpful tips:
Begin to pay your bills on time and in full
Only use two to four credit cards so that you can keep track of them and do not spend more than your budget
Keep a separate checking and savings account
Keep the same job for a few years, the longer you stay put, the better
Now that you've examined your credit report and are confident that you're in good shape, you're ready to choose between getting pre-approved for a mortgage or pre-qualified for a mortgage. Here's the difference:
Pre-approval uses basic information as well as electronic credit reporting to determine whether a lender will loan you money. If you are pre-approved for a mortgage, the lender has given you a commitment to support your new purchase.
Pre-qualification is not a mortgage approval but simply an estimate of what you can afford. When you pre-qualify for a mortgage, the lender also collects basic information regarding your income, monthly debts, credit history and assets, and then uses this information to calculate an estimated mortgage amount. The lender has not yet committed to supporting your financial needs and, therefore, you have not received an actual guarantee of funds. People who are pre-approved for a mortgage are more attractive candidates to the seller and have a better chance of getting the property when they make an offer.
Deciding On A Mortgage
Once you've been pre-approved for a mortgage, you need to decide which type of mortgage to get. This decision is usually based on the interest rate of the loan and how much time you're given to pay the lender back. The interest rate is the percentage of the loan the lender earns for lending you money. You can get a Fixed Rate Mortgage or an Adjustable Rate Mortgage (ARM). Let's look at the difference.
Fixed Rate Mortgage
This is the traditional method of financing a home. The interest rate stays the same for the entire term of the loan – usually 15 to 30 years. This means that the interest and the principal portions of your monthly payment remain fixed. With a Fixed Rate Mortgage, your payments are stable and predictable, but initial interest rates tend to be higher with a fixed rate than with an adjustable rate.
Adjustable Rate Mortgage
The interest on an Adjustable Rate Mortgage is linked to a financial index, such as a Treasury Security, so the interest rate fluctuates with changes in market conditions. With an adjustable rate, your payments will vary over the life of the loan. Most Adjustable Rate Mortgages have a lifetime cap on the interest rate increase to protect the borrower. The advantage of an Adjustable Rate Mortgage is that it offers lower initial payments and this makes it easier for buyers to qualify. Some Adjustable Rate Mortgages may be converted to Fixed Rate Mortgages at specified times, usually within the first five years. It is important to know that you are not limited to a Fixed or Adjustable Rate Mortgage. If you are interested in exploring further options, contact your local mortgage professional.
Calculating Your Budget
To estimate your budget, add up your total financial worth and then subtract all the costs included in the purchase. Here are some of the expenses you will carry.
Down Payment
Most homeowners contribute a down payment on his or her new property. The down payment is a percentage of the purchase price that the buyer pays in full before closing. The larger the down payment, the smaller your mortgage will be. How much can you put down?
Cost
There are quite a few costs when you're buying a new property. Make sure you understand how much each cost is and factor them into the final budget. Here are some examples of these costs:
Monthly Costs: The calculation of your entire monthly costs including the mortgage, insurance, taxes, etc.
Points: Borrowers have the opportunity to reduce the interest rate on their mortgage by paying points at the beginning of the loan. One point is one percent of the new loan.
Additional Fees: Examples of possible fees are highlighted in the Estimated Buyer's Cost Worksheet on page 8.
Final Budget
Now you're ready to calculate your final budget. Remember to include all of your available monies, monthly salary, additional income, and then subtract the down payment, monthly mortgage payment, closing costs, moving costs, and any additional expenditures you might accrue. When you have arrived at your estimated budget, you are ready to begin the search for your new house.
Estimated Buyer's Cost Worksheet
The Fun Begins
You have all of your financial papers in order, you've been pre-approved for a mortgage, and you've calculated your budget, now it's time to have some fun finding your new home!
The Home Finding Needs Worksheet
Can you picture your dream house? Does it have a huge backyard? Lots of land? What kind of neighborhood is it in? Is it important to have a good school system nearby? What about public transportation or daycare facilities? Do you want to live by a lake, a river, or a town? These are just a few of the questions you should consider before you begin your search. Remember, the more you know about what you're looking for, the quicker you'll find the perfect match!

Luckily, you can use our Home Finding Needs Worksheet to help you prioritize your wants and needs in your new home. Take some time, fill out the worksheet and have some fun. Your dream home is just a few steps away.
Multiple Listings, Open Houses and Special Features
One of the many advantages of working with a Coldwell Banker® Sales Associate is our access to multiple listings. That means you can see every house on the market if you'd like to. We can provide a detailed description on any property of interest, including special features. Plus, we screen all the listings before we show them, in order to save you time and eliminate the homes that don't meet your criteria.
Open Houses
Open houses are a great way to get a feel of a specific property. You can be sure that a Coldwell Banker Sales Associate will inform you of upcoming open houses, giving you the important information and details of the property.
Special Features
If you require special features such as a swimming pool, wheelchair access, or even skylights, we will be sure to show you only those properties that accommodate your needs. In turn, if we know of any properties that have special features that are not listed, you will be the first to know of them.
Digital Tools
Coldwell Banker® offers a wide range of digital tools to help you during your home search, starting with the award-winning coldwellbanker.com.
coldwellbanker.com
Start with Property Search: coldwellbanker.com offers a simple interface yet offers advanced options to help narrow down your search to fit your need.
Try the Keyword search for more precise property results, such as "pool" or "big yard"
Browse rich property photos or take a Video tour of listings
Test drive one-of-a-kind search experience with BlueScape® search (Patent Pending), the industry's first completely visual real estate search feature
Filter your search based on homes you can afford with the Affordability Radar
Find the neighborhood that's just right for you with our Lifestyle Search
On Location - youtube.com/coldwellbanker
View thousands of home, agent and office videos or discover a great new neighborhood through our community videos.
coldwellbankerpreviews.com
With translation and currency conversion tools catering to an international audience, you'll find a luxury specialist and view some of the most desirable estates in the world.
coldwellbanker.com mobile

Take coldwellbanker.com on the road with our rich mobile experience. Visit coldwellbanker.com from any mobile browser to get the best features of our website in a pocket-sized edition.
iPhone and Android Apps
This is not your average real estate app. Download our iPhone or Android app today and connect with your Coldwell Banker agent with the My Agent feature or define your area of search by simply using your fingers to draw it on the map with our Map Sketch feature.
iPad App

Get ready for a bigger and better real estate search experience. When you download our iPad app, you open the door to a stunning real estate experience with full screen maps and local community information powered by YELP, right at your fingertips.

Writing The Offer
Once you've found the perfect home, a Coldwell Banker® Sales Associate will write up the offer. After the offer is accepted, there are various steps that need to take place before you can close. These include the loan application, qualification and commitment, all inspections completed and repairs made if necessary, property is surveyed and appraised, the title is analyzed and the title insurance commitment is issued, and you have secured homeowner's insurance.
The Closing
This is the meeting where the sale transaction is finalized. During the closing, settlement procedures take place. The Disclosure Statement is released, money is exchanged, all paperwork and agreements are signed, and the title of property is transferred. This is the last step before you can call the property your home.
Settlement Procedure
Once the seller has accepted the offer and both parties are in agreement, the settlement procedures can begin. These include calculating and paying for the costs of the various settlement needs, signing all the appropriate papers, the transaction of money, and the title change of the property.
Seller's Disclosure Statement
Often in real estate transactions, the seller will present a Disclosure Statement. This statement includes the age and condition of the property and a list of any additional features (pool, garage, etc.). The Disclosure Statement protects the seller against liability from a buyer who charges that he or she was not made aware of a particular condition, as well as providing the buyer with an extensive review of the property so that she can make a fully-informed decision before she purchases the house. Your Coldwell Banker® Sales Associate can guide you through all the closing procedures so that you can obtain your new home as efficiently and easily as possible.
Frequently Asked Questions
What types of mortgage programs are offered?
There are many different mortgage products available, including:
15, 20, and 30-year Fixed Rate loans
Adjustable Rate loans
New Construction financing
VA and FHA loans
5 and 7-year Balloon loans
And many more
Speak to your local mortgage advisor to see what's right for you.
How long does it take to process a mortgage application?
It usually takes 45 to 60 days to process an application, although it can take as few as seven days and as long as 90 days for some transactions. The actual time depends on how quickly the lender can get an appraisal of the property and verify borrower information such as a credit report and verification of employment and bank accounts.
What documents will I have to provide?
Be prepared to provide verification of income (including a pay stub and recent tax returns), bank statements and details on your long-term debt (credit cards, auto loans, child support, etc.). If you're self-employed, you may also be required to provide financial statements for your business. In recent years, lenders have been required to obtain more specific information from borrowers in order to package and sell loans to investors. If you were lending someone such a large amount of money, you'd want detailed financial information.
Could anything delay approval of my loan?
If you provide the lender with complete, accurate information, everything should go smoothly. You may face a delay if the lender discovers credit problems – a history of late payments or nonpayment of debts, or a tax lien. You may then be required to submit additional explanations or clarifications. You should also be sure to notify your lender if your personal or financial status changes between the time you submit an application and the time it's funded. If you change jobs, get an increase (or decrease) in salary, incur additional debt or change your marital status, let the lender know promptly. You may be delayed if the home you selected fails to appraise for the agreed purchase price.
Frequently Asked Questions
What's included in my house payment?
Principal and interest on your loan. Depending on the terms of your loan, the payment also may include hazard (homeowners) insurance, mortgage insurance and property taxes.
Can I pay those other things separately?
Not if it's an FHA or VA-insured loan. With most other loans, you can pay your own taxes and insurance if you borrowed no more than 80 percent of the purchase price or appraised value of your home. Check with your lender to be sure.
What do the closing costs include?
Closing costs cover processing and administration of your loan including title and recording fees. In addition to a loan fee, you'll usually be asked to prepay interest charges to cover the partial month in which you close, and you may be required to deposit monies into an escrow account for property taxes, hazard insurance and mortgage insurance.
When do my mortgage payments start?
Usually about 30 days after closing. The actual date of your first payment will be included in your closing documents.
More questions?
Call us with any questions you might have, (207) 778-6333.
Glossary Of Terms
Adjustable Rate Mortgage (ARM): A mortgage with an interest rate that changes over time in line with movements in the index. ARMs are also referred to as AMLs (adjustable mortgage loans) or VRMs (variable rate mortgages).
Adjustment Period: The length of time between interest rate changes on the ARM. For example, a loan with an adjustable period of one year is called a one year ARM, which means that the interest rate can change once a year.
Amortization: Repayment of a loan in installments of principal and interest, rather than interest-only payments.
Annual Percentage Rates (APR): The total finance charge (interest, loan fees, points) expressed as a percentage of the loan amount.
Appraisal: An estimate of the property's value.
Assumption of Mortgage: A buyer's agreement to assume the liability under an existing note that is secured by a mortgage or deed of trust. The lender must approve the buyer in order to release the original borrower (usually the seller) from liability.
Balloon Payment: A lump sum principal payment due at the end of some mortgages or other long-term loans.
Binder: Sometimes known as an offer to purchase or an earnest money receipt. A binder is the acknowledgement of a deposit along with a brief written agreement to enter into a contract for the sale of real estate.
Buydown: Permanent - prepaid interest that brings the note rate on the loan down to a lower, permanent rate. Temporarily - on the loan, allowing the buyer to more readily qualify and to increase payments as income grows.
Cap: The limit on how much an interest rate or monthly payment can change, either at each adjustable or over the life of the mortgage.
Cash Reserves: The amount of the buyer's liquid cash remaining after making the down payment and paying all closing costs.
CC&Rs: Covenants, conditions and restrictions. A document that controls the use, requirements and restrictions of a property.
Certificate of Commitment: The lender's approval of a VA loan, which is usually good for up to six months.
Certificate of Reasonable Value (CRV): A document that establishes the maximum value and loan amount for a VA guaranteed mortgage.
Chattel: Personal property.
Closing Statement: The financial disclosure statement that accounts for all of the funds received and expected at the closing, including deposits for taxes, hazard insurance, and mortgage insurance.
Commitment Period: The period during which a loan approval is valid.
Condominium: A form of real estate ownership where the owner receives title to a particular unit and has a proportionate interest in certain common areas. The unit itself is generally a separately owned space whose interior surface (walls, floors and ceilings) serves as boundaries.
Contingency: A condition that must be satisfied before a contract is binding. For instance, a sales agreement may be contingent upon the buyer obtaining financing.
Conversion Clause: A provision in some ARMs that enables homebuyers to change an ARM to a fixed rate loan, usually after the first adjustment period. The new fixed rate is generally set at the prevailing interest rate for fixed rate mortgages. This conversation feature may cost extra.
Cooperative: A form of multiple ownership in which a corporation or business trust entity holds a title to a property and grants occupancy rights to shareholders by means of proprietary leases or similar arrangements.
CRB: Certified Residential Broker.
CRS: Certified Residential Specialist.
Debt Ratios: The comparison of a buyer's housing costs to his or her gross or net effective income, and the comparison of a buyer's total long-term debt to his or her gross or net effective income. The first ratio is housing ratio; the second ratio is total debt ratio.
Due-On-Sale Clause: A clause that requires a full payment of a mortgage or deed of trust when the secured property changes ownership.
Earnest Money: The portion of the down payment delivered to the seller or escrow agent by the purchaser with a written offer as evidence of good faith.
Escrow: A procedure in which a third party acts as a stakeholder for both the buyer and the seller, carrying out both parties' instructions and assuming responsibility for handling all the paperwork and distribution funds.
Equity: The difference between what is owed and what the property could be sold for.
FHA Loan: A loan insured by the Federal Housing Administration (of the Department of Housing and Urban Development).
Federal Home Loan Mortgage Corporation (FHLMC): Called "Freddie Mac"; a part of the secondary market, particularly used to purchase loans from savings and loan lenders within the Federal Home Loan Bank Board.
Federal National Mortgage Association (FNMA): Popularly known as "Fannie Mae"; a privately owned corporation created by Congress to support the secondary mortgage market. It purchases and sells residential mortgages insured by FHA or guaranteed by the VA, as well as conventional home mortgages.
Fee Simple: An estate in which the owner has unrestricted power to dispose of the property as he wishes, including leaving by will or inheritance. It is the greatest interest a person can have in real estate.
Finance Charge: The total cost a borrower must pay, directly or indirectly, to obtain credit.
Fixed Rate Mortgage: A conventional loan with a single interest rate for the life of the loan.
Fully Indexed Rate: The maximum interest rate on an ARM that can be reached at the first adjustment.
Gift Letter: A letter from a relative stating that an amount will be gifted to the buyer, and that said amount is not to be repaid.
Government National Mortgage Association (GNMA): Called "Ginnie Mae"; a governmental part of the secondary market that deals primarily in recycling VA and FHA mortgages, particularly those that are highly leveraged.
Graduated Payment Mortgage: A residential mortgage with monthly payments that start at a low level and increase at a predetermined rate.
GRI: Graduate Realtors Institute: A professional designation granted to a member of the National Association of Realtors who has successfully completed courses covering Law, Finance and Principals of Real Estate.
Home Inspection Report: A qualified inspector's report on a property's overall condition. The report usually includes an evaluation of both the structure and mechanical systems.
Home Warranty Plan: Protection against failure of mechanical systems within the property. Usually includes plumbing, electrical, heating systems and installed appliances.
Index: A measure of interest rate changes used to determine changes in an ARM's interest rate over the term of the loan.
Initial Interest Rate: The introductory interest rate on a loan; signals that there may be rate adjustments later in the loan.
Joint Tenancy: An equal undivided ownership of property by two or more persons. Upon the death of any owner, the survivors take the decedent's interest in the property.
Jumbo Loans: Mortgage loans that exceed the loan amounts acceptable for sale in the secondary market; these jumbos must be packaged and sold differently to investors and, therefore, have separate underwriting guidelines.
Lien: A legal hold or claim on property as security for a debt or charge.
Loan Commitment: A written promise to make a loan for a specified amount on specified terms.
Loan-To-Value Ratio: The relationship between the amount of the mortgage and the appraised value of the property, expressed as a percentage of the appraised value.
Lock-in: The fixing of an interest rate or points at a certain level, usually during the loan application process. It is usually done for a certain period of time, such as 60 days, and may require a fee or premium in the form of a higher interest rate.
Margin: The number of percentage points the lender adds to the index rate to calculate the ARM interest rate at each adjustment.
Mortgage Insurance Premium (MIP): The mortgage insurance required on FHA loans for the life of said loans; MIP can either be paid in cash at closing or financed in its entirety in the loan. The premium varies depending on the method of payment.
Mortgage Life Insurance: A type of term life insurance often bought by homebuyers. The coverage decreases as the mortgage balance declines. If the borrower dies while the policy is in force, the mortgage debt is automatically covered by insurance proceeds.
Negative Amortization: Occurs when monthly payments fail to cover the interest cost. The interest that isn't covered is added to the unpaid principal balance, which means that even after several payments the borrowers could owe more than they did at the beginning of the loan. Negative amortization can occur when an ARM has a payment cap that results in monthly payments that aren't high enough to cover the interest.
Origination Fee: A fee or charge for work involved in evaluating, preparing, and submitting a proposed mortgage loan. The fee is limited to one percent for FHA and VA loans.
Payment Cap: The maximum amount the payment can adjust in any given time frame.
PITI: Principal, Interest, Taxes and Insurance.
Planned Unit Development (PUD): A zoning designation for property development at the same or slightly greater overall density than a conventional development, sometimes with improvements clustered between open common areas. Use may be residential, commercial or industrial.
Point: An amount equal to one percent of the principal amount of the investment or note. Lender assesses loan discount points at closing to increase the yield on the mortgage to a position competitive with other types of investments.
Prepayment Penalty: A fee charged to a borrower who pays a loan before it is due. Not allowed for FHA or VA loans.
Private Mortgage Insurance (PMI): Insurance written by a private company protecting the lender against loss if the borrower defaults on the mortgage.
Purchase Agreement: A written document in which the purchaser agrees to buy certain real estate and the seller agrees to sell under stated terms and conditions. Also called a sales contract, earnest money contract, or agreement for sale.
Rate Gap: The difference between where the rate is now and where it could adjust to on an ARM. Also used to compare the difference between a current conventional rate and that of an ARM.
Realtor: A real estate broker or associate active in a local real estate board affiliated with the National Association of Realtors.
Regulation Z: The set of rules governing consumer lending issued by the Federal Reserve Board of Governors in accordance with the Consumer Protection Act.
Tenancy in Common: A type of joint ownership of property by two or more persons with no right of survivorship.
Title Insurance Policy: A policy that protects the purchaser, mortgagee or other party against losses.
VA Loans: A loan, made by a private lender, which is partially guaranteed by the Veterans Administration.
HomeBuyer's Checklist
Familiarize yourself with the mortgage process
Get pre-approved and pre-qualified
Get finances in order and prepare your budget
Identify your needs and wants
Find the home that meets your criteria
Negotiate a price and make an offer
Arrange for home inspection
Confirm closing date
Conduct walk-through of home
Close and settle deal
This brochure is provided for informational purposes only and is not intended, nor shall it be deemed, to provide or offer legal or financial advice or guidance. You should always consult with your own advisor when dealing with any of the information visited herein. If your property is listed with a real estate broker, please disregard. I is not our intention to solicit the offerings of other real estate brokers. We are happy to work with them and cooperate fully. ©2014 Coldwell Banker Real Estate LLC. All Rights Reserved. Coldwell Banker Real Estate LLC fully supports the principles of the Fair Housing Act and the Equal Opportunity Act. Each Office is Independently Owned and Operated. Coldwell Banker® and the Coldwell Banker Logo are registered service marks owned by Coldwell Banker Real Estate LLC. Each agent and broker is responsible for complying with any consumer disclosure laws or regulations. Any use of the term "sales associate" or "agent" shall be replaced with the term "sales representative" in Canada.